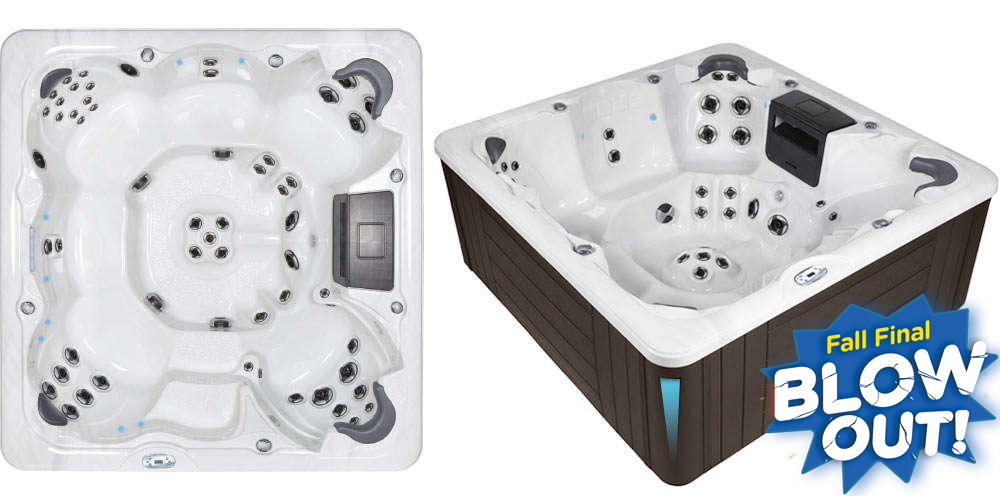 MODEL 980
CLASSIC COLLECTION
AVAILABLE IN S, SR or SX SERIES
SAVE: $2800
$10795.00
$7995.00
S SERIES
SAVE: $3000
$11495.00
$8495.00
SR SERIES
SAVE: $3500
$12495.00
$8995.00
SX SERIES
Seating: 7 Adults, no lounge
Dimensions: 90" x 94" x 36"
Water Capacity: 463 Gallons | 1,753 Litres
The 980 hot tub features an impressive 61 two-tone hydrotherapy jets!
The powerful back, calf and foot jets are all powered by two 5.0SPL dual speed jet pumps. Up to 7 bathers can comfortably enjoy the spacious bench and bucket seating with the multi-colour LED waterfall lighting, deck controls and exterior cabinet corner lighting.
Create a total relaxation experience with the multi-coloured LED waterfall, LED knob controls and LED exterior cabinet corner lighting paired with the LED perimeter lighting and MP3 Bluetooth audio system including powered subwoofer for deep rich base.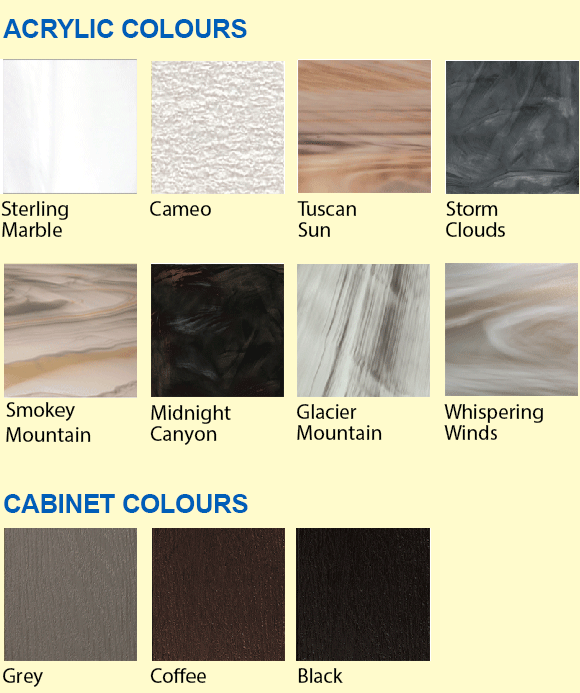 FEATURES
61 Jets 2-Tone Hydrotherapy (Stainless Steel SX Series)
Two-Tone Air Controls
LED Multi-Colour Safety Light
LED Illuminated Waterfall
LED Knob Controls (SX Series)
LED Perimeter Lighting
LED Exterior Lighting with Deluxe Corners
4 Speaker Bluetooth/MP3 Audio System (SX Series)
2 Speaker Bluetooth/MP3 Audio System (SR Series)
Deluxe Water Management System (SX Series)
5" x 3" Tapered Thermal Cover
EQUIPMENT
User Friendly, Long Lasting Balboa Controls
S Series - One 5.0SPL Single Speed, One 5.0SPL Dual Speed Pump
SR & SX Series - Two 5.0SPL Dual Speed Jet Pumps
4Kw Heating System
100 Sq. Ft. Filtration System
STRUCTURE
Capped Bottom Liner
Galvanized SureSteel Support Structure
Polysteel Exterior Cabinetry
GreenGuard Roxul Insulation
OPTIONAL FEATURES
Deluxe Wi-Fi Systems Controller
Factory Installed Ozone (S, SR Series )
MODEL 980 SELECTOR FOR S, SR & SX CLASSIC COLLECTION SERIES
Available Features
EZ
S
SR
SX
Voltage 220 v

N

O

T

A

V

A

I

L

A

B

L

E

Pump 1- Dual Speed
Pump 2- Single Speed
Pump 2- Dual Speed
Jets - 2 Tone Plastic Hydrotherapy
Jets - 2 Tone Stainless Hydrotherapy
Filter 2 x 50 SQFT
4 Kw Heating System
Keypad Control Center
Deluxe
Deluxe
Deluxe
LED - External Corners
LED - Interior Main
LED - Waterfall
LED - Interior Perimiter
LED - Knob Controls
Audio - MP3, Bluetooth, Subwoofer
Speakers
2
4
Ozone
Optional
Optional
AQUANOVA
Wi-Fi Systems Controller
Optional
Optional
Optional