How To Install an Above-Ground Pool

This guide is a general instruction for an above-ground pool installation and not intended to replace it with pool manufacturer instructions.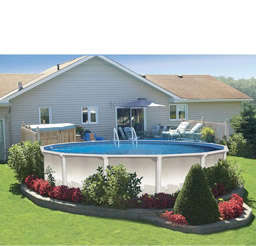 Select A Proper Place For Your Pool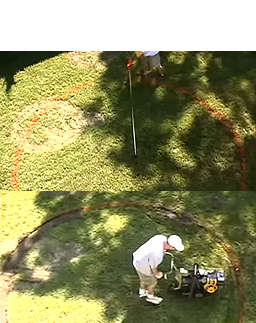 It is important to spend time to finalize the location of your pool. We advise to select an area where the sun stays for the longest time of the day. It is recommended that your pool equipment stays within 4 feet of the wall of your pool as it puts less press
ure on your pump. Don't forget that above ground pool pumps are gravity fed so keep pool equipment closer to the pool. Also see if your pool is visible from your house.
Mark The Perimeter And Prepare The Ground

Once you have selected a suitable area for your pool, you need to dig an iron rod in the center of the area and use a measuring tape to make a circle around it. Whatever is your pool size, add one extra foot around your pool. This will be helpful to avoid grasses and weeds to grow around the pool wall. You can also put decorative stones and plants on this extra foot that will beautify area around your pool.

Now rent a sod cutter and remove the grass inside the circle you made. Don't forget if you cut the sod in long streaks roll them up and use them later around the pool area. Now rake the area to remove remaining grass, roots, stones, or debris. This is important otherwise it will affect your liner adversely.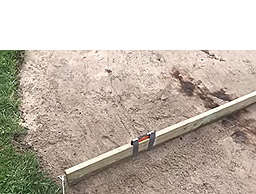 Level The Ground
The higher ground within the sod-cleared area needs to be dug out to match the lowest ground. Keep checking again and again that everything is leveled properly during your above ground pool installation process. It is easier and most accurate way to use a site level or a transit level for this purpose. If your ground is not leveled, your pool can be damaged or can cause harm to those in or near it. The wall could collapse or sink into the ground. Once the ground is level you need to take measurements before starting construction.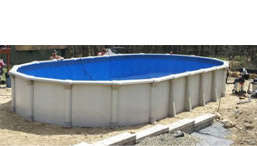 Additional Advice
If the ground is clay use a floor pad for installation. Oval buttresses free pools needs leg support hence more room is required. On concrete you cannot install an oval pool. Floor pad is designed to lay flat so don't install on a dished pool. You cannot dish an oval pool if it has strapping. The pool must be leveled across the perimeter.
Foundation Of The Pool
After ground is level now it is time to lay a foundation for your aboveground pool. Use a clean sand as a base material as it performs a dual purpose. First it acts as a barrier between ground and liner and helps to protect the liner form rocks, roots
o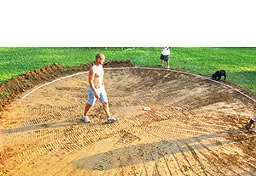 r other objects and secondly it provides cushioning for the floor of pool and makes it more comfortable underfoot. To provide extra protection to your pool liner Discounters Pool & Spa Warehouse recommends us
e floor padding with sand. It is worth the investment to safeguard your pool liner as replacing liner involves cost of liner, installation and refilling your pool.

A 2-inch layer of sand is standard but check manufacturer's instructions for your pool. Also note not to use high alkaline substances like peat moss as a base because it can corrode metal parts.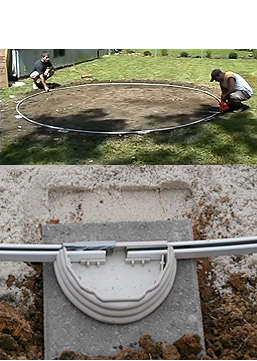 Pool Frame Foundation
For pool frame foundation either uses patio stones or blocks which are sunk until flush with ground. Place these blocks beneath the pool posts and buttresses for support. It is critical to make sure two aspects. First each block must be level in all directions (from side to side and from front to back) and second blocks are level with one another. This is to ensure base plates, track and pool frame rest firmly and evenly on the block. Check your pool manufacturer's instructions for placement of stones or blocks.

From one block to another block, there can be no more than 1/16" out of level. Use transit to be sure each block is level. Unlevel supports can cause the wall of above ground pools to buckle, even with the variation of only 1/8" between the blocks. After you determine actual position in the ground, that the block needs to be placed, make sure all posts will rest squarely and evenly on them. Follow the manufacturer's instruction guidelines on when and how many blocks need to be positioned.

Keep checking and re-checking this critical frame positioning as you lay the block, after you have put up the wall, after you have spread the sand base, after you have beveled the sand cove area and prior to installing the liner.

A 2-inch layer of sand is standard but check manufacturer's instructions for your pool. Also note not to use high alkaline substances like peat moss as a base because it can corrode metal parts.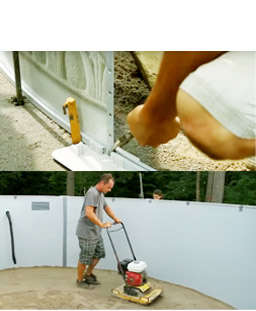 Assemble The Pool
Above-ground pools will typically include the following parts: bottom rails, bottom plates, uprights, pool wall, top rails, caps for uprights, coping, pool liner and hardware. A skimmer and return fitting is often included. If your pool is delivered by truck, make sure you have received all necessary parts in good condition and nothing is missing or damaged.


Once the pool frame and walls are up create a cove. This is 6-8 inch wedge of sand built all the way around the inside edge of the pool wall. It is mandatory for above ground pools. The cove will keep the liner from slipping under the pool wall and provide a protective layer between the liner and the metal frame of the pool.


There is an alternative pre-manufactured pool cove in two forms: Peel and Stick. Peel & Stick has adhesive backing and Click and Stick which snaps onto the track of pool wall.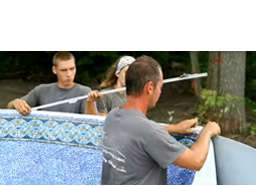 Install A Liner
Next step that is the most interesting part of above-ground pools installation is called Liner. As liners are delicate so need more care to inspect it by unfolding it and check for any holes or tears and examine seams to make sure they are properly sealed. Surely you don't want to discover a defect after you have filled the pool. Follow the manufacturer's instructions regarding installing the liner. Make sure there is no space between the liner and the ground and no downward pressure on the liner. Hang your liner on the pool in accordance with your liner type (overlap, beaded or j-hook). Wrinkles in the liner material are normal and unavoidable. To keep liner safe, do not pull or stretch the liner. Air between liner and pool wall can cause wrinkles. To minimize this you can use a vacuum hose inserting it through the skimmer hole in the pool wall behind the liner. Adjust your pool liner while vacuum is running. Once you are done adjusting your pool liner you can fill your pool and keep the vacuum continue to run. You can fill your pool with a common garden hose or hire a water truck which is much faster.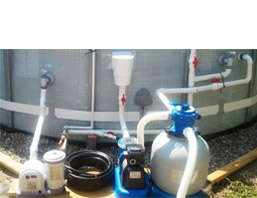 Connect The Pool Equipment
After your above-ground pool is filled with water you need to connect your pump and filter system, heater, lights and any other pool equipment you may have. Follow the manufacturer's instructions for pool equipments and same for adding chemicals for aboveground pools.