How To Install A Pool Cover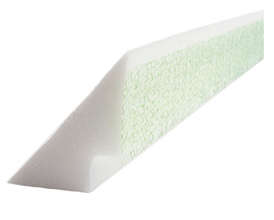 People who want to install an above ground pool for the first time are always concerned about how to install a base underneath a pool liner so that it is comfortable and can add years of life to the liner.


The best solution for this is a sand base, foam cove and a liner floor pad. Pool cove is mandatory and if you don't want a foam cove then make a cove from sand.


The cove is a vital structural element of your pool and is quick and easy to install.

A Pool cove becomes part of your pool to seal the space between the wall and the liner and to prevent liner stain.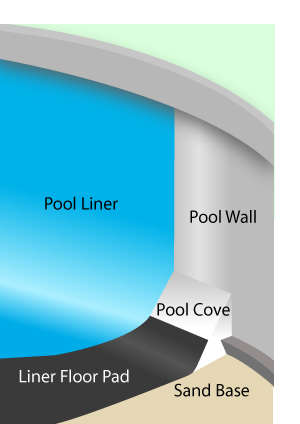 Installation Instructions
Following are 3 easy steps to install a pool cove:

Step-1: Inside your above ground pool entire bottom, Install a fine pool sand approximately 3" thick bed.

Step-2: After sand base is done, now lay your pre-cut liner pad on top of sand.

Step-3: Remove the adhesive backing of the foam cove and then attach it directly on top of the liner floor pad and then stick it to pool metal wall.

Lay the pool foam cove inside the circumference of your pool wall. To support the liner and eliminate the stress at the seam of the pool liner, use a recommended height of around 6-7 inches. That is 3-3/4 inches pool cove height and installed on top of 3" of sand.


Benefits Of Peal And Stick Foam Cove
It has a quick installation due to adhesive backing.
It fills the gap between the pool wall and the liner to prevent liner stress.
It is made from chemically neutral foam.
It prevents stretching and premature wearing.
Peel & Stick 48" - # of Coves Needed By Pool Size
| | | | |
| --- | --- | --- | --- |
| Round Pool Sizes | Number of Coves | Oval Pool Sizes | Number of Coves |
| 12' | 10 | 10'x16' | 11 |
| 15' | 12 | 12'x18' | 13 |
| 18' | 14 | 12'x24' | 16 |
| 21' | 17 | 13'x23' | 15 |
| 24' | 19 | 15'x24' | 16 |
| 27' | 22 | 15'x26' | 18 |
| 28' | 23 | 15'x30' | 19 |
| 30' | 24 | 15'x31' | 20 |
| 33' | 26 | 16'x26' | 18 |
|   |   | 16'x32' | 21 |
|   |   | 18'x33' | 22 |
|   |   | 18'x40' | 16 |
|   |   | 21'x41' | 27 |